Is Sports Betting Legal In Connecticut
Finally, after years of political debates, there is a definitive answer to the question is sports betting legal in Connecticut and that answer is yes. To some, Connecticut is merely the gate from the continental United States into New England, but Connecticut residents know it's so much more. Filled with serene fishing towns and great seafood shacks, Connecticut is home to a lively, vibrant culture all its own. Of course, whenever you have a lively, vibrant culture you're likely to run into more than a few avid sports fans, and Connecticut is certainly no exception. Along with rabid sports cultures naturally come many questions about betting on sports in Connecticut, and that's exactly what we're here to help with.
The first thing on any Connecticut residents mind when it comes to betting on sports is whether or not they can get in any trouble legally for participating in the hobby. Happily, the answer is no. The state passed a bill legalizing sports betting in Connecticut back in 2017 with CT HB 6948. But, lawmakers still had to wait until PASPA was repealed in May of 2018 in order to form any solid rules and regulations for the industry. After years of going back and forth with industry stakeholders and state lawmakers, Governor Ned Lamont finally negotiated and signed a new tribal gaming compact in March 2021. That compact allows the tribes to offer online sports betting and land-based sports betting. It also allows the lottery to get involved in the industry too. The bill that solidified the compact into law was CT SB 6451.
But, an important note was that these new laws did not address the legal overseas-based sportsbooks that have been serving CT residents for well over a decade. These sites continue to operate safely out of the legal purview of state and federal laws, making them a great alternative option. Those searching for sports betting in Connecticut can use these sites to shop lines and find betting odds to events they can't find on local options.
Land-Based Sports Betting in Connecticut:
As of now, land-based sports betting in Connecticut has not yet launched but it is slated to in the very near future. Currently, one popular option for those living in Connecticut is to make a drive into Rhode Island, New Hampshire, or New Jersey wh ere there are legalized sports betting dens, but these can be a hassle for reasons even outside of the long travel time. As part of the new CT sports betting laws, both tribes will house a retail sportsbook. So you can expect to find one at Foxwoods Resort and the Mohegan Sun. Along with that, the state lottery will launch sports betting kiosks at 15 locations across the state so you'll have some option of in-person betting nearby. However, until those options launch, online sports betting will be your best bet.
Legal Online Sports Betting in Connecticut:
Lucky for sports betting enthusiasts, the internet exists. Many online sports betting sites are located offshore, are friendly to American citizens, and will happily accept residents from Connecticut. These online sportsbooks are based overseas so they are able to work around the various laws and jurisdictions that make land-based betting in Connecticut so difficult to get started. As legitimate businesses that have been in operation for over a decade, online sportsbooks have been verified by several customer accounts and various major news outlets as a safe place to put your hard-earned money. Putting your money in an online sportsbook is often as easy and just as safe as making a purchase from any major online retailer such as eBay or Amazon. Once, in-state online sportsbooks launch you will also be able to use them. However, there will only be two of those options and they will have to adhere to harder restrictions than the aforementioned sports betting sites.
Bovada Sportsbook - Offers Better Juice And Betting Lines Than Las Vegas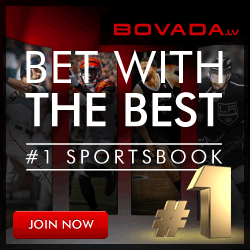 If you're looking to get into sports betting in Connecticut, an excellent sportsbook to take a look at is Bovada. The Bovada network has developed a pristine reputation over the years and has become synonymous with legitimacy in sports betting. Major news outlets such as USA today and CBS sports cite Bovada's online sportsbook for live betting odds rather than any land based sportsbooks in Delaware or even Las Vegas. Aside from being a safe and legal betting method, Bovada wants their account holders to rest assured that they are also committed to delivering only the highest standard of customer service. When you start an account with Bovada and make your initial deposit, they will match 50% of your deposit in free play for you to use anywhere in their sportsbook. That's up to $250 in free money to use freely on any of their various wagers and propositions or wagers as you break your teeth in their wonderful and intuitive interface.
Top Connecticut Sports Betting Sites
Rank
Online Sportsbooks
Bonuses Offered
Rating
US Players?
Play Now!





What's The Bottom Line? Will I Get In Trouble For Betting On Sports?
Now that you know sports betting is both safe and legal, nothing should stop you from picking up the hobby if you so choose. Next time the UCONN Huskies take the court, be sure and bet your bets in before tip off for an even more exciting gameday experience.