Sports Betting In Connecticut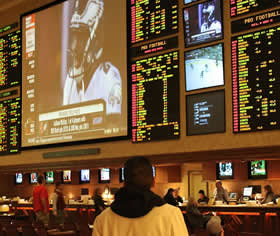 Regulated sports betting in Connecticut is slated to be a booming industry once it launches. Connecticut has a number of impressive college programs. With their incredible ability to consistently win, sports teams like the women's UCONN basketball squad are a great source for betting. Although, when trying to place a wager in the state there are a number of things to know. First, you should learn the CT gambling laws in order to fully understand what you can and cannot participate in.
As of now, sports betting in Connecticut can only be done through online sportsbooks, as land-based wagering has yet to be fully launched in the state. In order to find the absolute best online sportsbooks available for local residents, we've researched the best ones accepting American bettors and have come up with a list of potential books for you. They're listed here on this page. We'll also go over some of the frequently asked questions about sports betting in Connecticut on this page so that you'll really have a grasp on online wagering.
Does Connecticut Have Legal Land-Based Sports Gambling?
Connecticut is in a bit of an interesting position when it comes to land-based sportsbooks. The state legalized sports betting back in 2017 and called for regulations to be made amid changes to the federal law known as Professional and Amateur Sports Protection Act (PASPA). PASPA was then repealed in May of 2018, but it wasn't until 2021 that regulations were made. A good bit of the conflict has come fr om where sportsbooks will be held. The Mashantucket and Mohegan tribes own the two major casinos in the state and have exclusive rights to casino gaming. They were eventually able to win state legislators over which is why they will house the only two land-based sportsbooks. The state lottery, however, will be able to distribute sports betting kiosks to 15 of their partnered retailers. So there will be more options for those looking to bet on sports in Connecticut in land-based locations. These are set to launch in the fall of 2021.
Is Online Sports Betting Legal In Connecticut?
Yes! You cannot get in trouble for placing real-money wagers on the Internet. The State of Connecticut, largely due to the fact that it is not a major gambling state, does not have any legislation in place that can penalize players for placing bets. You can't use another state's online sportsbooks due to federal laws, but as long as you are using a site that is based overseas you should be good.
Regulated online gambling based-within the state is coming in fall of 2021 is coming but it is severely limited. The state's two tribes will be the only ones allowed to offer online sports betting which means there will only be two local options to choose from. The Mashantucket Pequot tribe partnered with DraftKings and the Mohegan tribe partnered with Kambi. If you want to truly shop lines, avoid weighted odds, and experience additional features, you'll have to use internationally-based sites. Thankfully, they'll still accept CT residents and no punishments will be served to users of these sites.
Which Sports Betting Sites Accept Connecticut Residents?
Right now, the only sports betting sites that accept Connecticut residents are ones that operate in other countries. The reason they are able to do so is because they are not under the legal purview of state or federal laws. With that in mind, they can't get penalized for serving CT players and users of the site in CT can't get penalized because there are no laws prohibiting them from using them.
In-state online sportsbooks are slated to launch during the 2021-2022 NFL football season, but they will be limited. For starters, CT residents that travel outside the state at all won't be able to use those apps since they are geo-fenced. Instead, the sites we feature below will not only accept residents of the Nutmeg State, but they will also continue to serve them when they travel.
Top Connecticut Sports Betting Sites
Rank
Online Sportsbooks
Bonuses Offered
Rating
US Players?
Play Now!





Other Types Of Gambling Available In Connecticut
Connecticut, despite its stricter stance on gambling, does have three tribal casinos. These casinos avoid a handful of state laws because they are located on Native American, sovereign land. The Foxwoods Resort Casino and MGM Grand at Foxwoods are located in Ledyard, while the Mohegan Sun is in Montville. They offer everything you would find in a destination-style casino, including slots, electronic games, and table games like poker.
Connecticut also has a lottery and a few charity bingo halls. As mentioned previously, there are a handful of off-track-betting facilities for horse racing fans. When it comes to online gambling and sports betting, both will be launching in the near future since a new tribal compact was successfully negotiated between Governor Ned Lamont and the tribes. That compact still allows online gambling sites that have been serving CT residents for over a decade to continue doing so.
Does Connecticut Allow Pari-Mutuel Betting?
Connecticut does not have any horse racing tacks, though it does have a handful of off-track-betting facilities where races are broadcasted. This allows you to place bets on races across the country.

How Old Do I Have To Be To Bet Sports Online In Connecticut?
When betting on sports in Connecticut, residents need to wait until they've reached a specific age before they place their first wagers. In order to bet on sports online in Connecticut, players must wait until they're 21. This is a few years higher than most online sportsbooks' age requirement, so be sure to wait until you are legally old enough before you start betting on sports. Even if the online sportsbook you're using says 18+, you'll want to wait until you're of the legal age of your state.
What Teams Can I Bet On In Connecticut?
In Connecticut, you can bet on whichever team you'd like. The best part of sports betting in Connecticut is that you don't even have to like the team you're betting on – you just have to pick the one you think will win you money. There aren't any professional sports teams in Connecticut, but there are a couple of great college programs. Regardless of which level you're choosing to bet on, you can pick any team in any country to back. That's what makes sports betting in Connecticut so great.
College:
UConn Huskies
New Haven Eagles
Bridgeport Bluefish
How To Deposit Using Bitcoin?
Using Bitcoin to fund your sportsbook account is incredibly simple. To deposit using Bitcoin, you'll need to create a bitcoin wallet. There are a number of sites that will serve in this capacity, like Coinbase, Bither, and Breadwallet. There are quite a few available to Connecticut residents. Once you've opened your wallet, you'll need to purchase Bitcoin. You are never limited to how much you can purchase, but be sure to monitor the exchange rate at which bitcoins can be purchased. You want to buy low and sell high.
Once you've finished purchasing Bitcoins, you can go to any online sportsbook and choose Bitcoin as your deposit method by going to the Cashier tab and selecting the Bitcoin icon. Input the basic information like your name and how much you'd like to deposit - in USD - and then put your Bitcoin wallet address in the appropriate slot. From there, all you have to do is press submit and your transaction will be processed within minutes. The Bitcoin software will take care of everything and you'll be on your way to sports betting in Connecticut in no time.
Best Deposit Options For Large Wagers!
The best deposit options for large wagers in Connecticut have got to be Bitcoin and Checks. Bitcoin is a digital currency which allows players to fund their accounts in just a few moments. Bitcoins are a safe and reliable way to fund your account that also enable you to make large transactions whenever you'd like.
Checks are also a great way for residents to fund their account. While they may take a little longer to credit your sportsbook account - several business days, depending on when you mail the check - the funding options are practically limitless. A simple check in the mail will give you thousands upon thousands of dollars to work with, with very little inconvenience to you. When sports betting in Connecticut, these are definitely the best ways to fund your account.